Heinrich Aerial Solutions partners with the Alfred Dunhill Links Championship to reveal the secrets of the Old Course
London – (Thursday, August 11) – Heinrich Aerial Solutions (HAS) is delighted to announce a collaboration with the Alfred Dunhill Links Championship for the showcasing of HAS's unique immersive technology in the production of the 'Golf Legends Reveal The Secrets of The Old Course' content series.
The series will feature across the Alfred Dunhill Links Championship digital channels as a precursor to the 2022 Alfred Dunhill Links Championship starting in September 2022.
This collaboration between HAS and the Alfred Dunhill Links Championship is an extension of a content series which began during 2021 Alfred Dunhill Links Championship and featured HAS 3D animated graphics and high-quality drone video fly-downs.
The service offering highlights HAS React – an immersive technology which merges event footage with true data in a 3D-generated environment.
In the 'Legends' series, HAS technology enhances the storytelling around signature holes at the Old Course, St Andrews. It is accompanied by captivating voiceovers from legends including Sir Nick Faldo, Ernie Els and Gary Player.
Graeme Heinrich, CEO and Founder of Heinrich Aerial Solutions, said the use of HAS immersive technology deepens fan engagement as never before. "Through our unique technology we are able to put fans into the mindset of the professional golfer," he said.
"HAS technology is rooted in sub-centimetre accuracy, so rather than rely on a graphical representation of a fairway or green, we produce 3D models from true data captured through a unique drone/GPS mapping process. What this means is that when we tell a story about an approach shot to a particular hole, a bunker escape or a putt on a green, fans can experience the shot as it was actually played. Theybecome immersed as if they were there when it happened.
"Our immersive graphics are not virtual representations or simulations of ball flights. Our ball traces, topographical lines and green contours are drawn from true data. And the recollections of a legend like Sir Nick Faldo adds lustre to the narrative."
"We are delighted to be partnering with such a prestigious tournament as the Alfred Dunhill Links Championship and to play our part in telling the story of the Old Course legends while showcasing the range of HAS capabilities."
Peter German, Tournament Director for the Alfred Dunhill Links Championship said: "This innovative technology is amazing and brings the Old Course to life. For the first time you have a realistic sense of the slopes and undulations that make it such a unique and historic Links. You can really appreciate the challenges which the professionals and amateurs will be facing in this year's Championship."
About
Graeme Heinrich, the founder and driving force of Heinrich Aerial Solutions (HAS), is a fully licensed and qualified commercial UAV (drone) pilot with certifications in Australia, United States, United Kingdom, Italy, Portugal, Japan and many other jurisdictions.
Aerial mapping and surveying have become his specialties enabling him to achieve blueprint accuracy by bringing innovations to tried and tested methodology. The HAS portfolio also includes the more familiar offerings of Photography and Videography.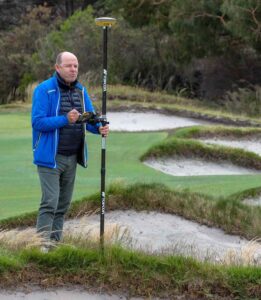 Having merged cutting edge data acquisition with unique processing methods , he has produced proprietary systems and software to offer unsurpassed, real world solutions based on true 3D data.
Being a first mover in recognising that a raft of industries can benefit from the use of UAVs, Graeme has unparalleled expertise in supplying fully verified data solutions.
His broad range of products and services extends from aesthetic deliverables for commercial use, to Survey Grade accuracy data sets.
Building on Graeme's 'inside-the-ropes' experience of over 30 years in professional golf globally, supplying the highest quality products to professional golfers, Heinrich Aerial Solutions is now at the forefront of the delivery of true data solutions for all.